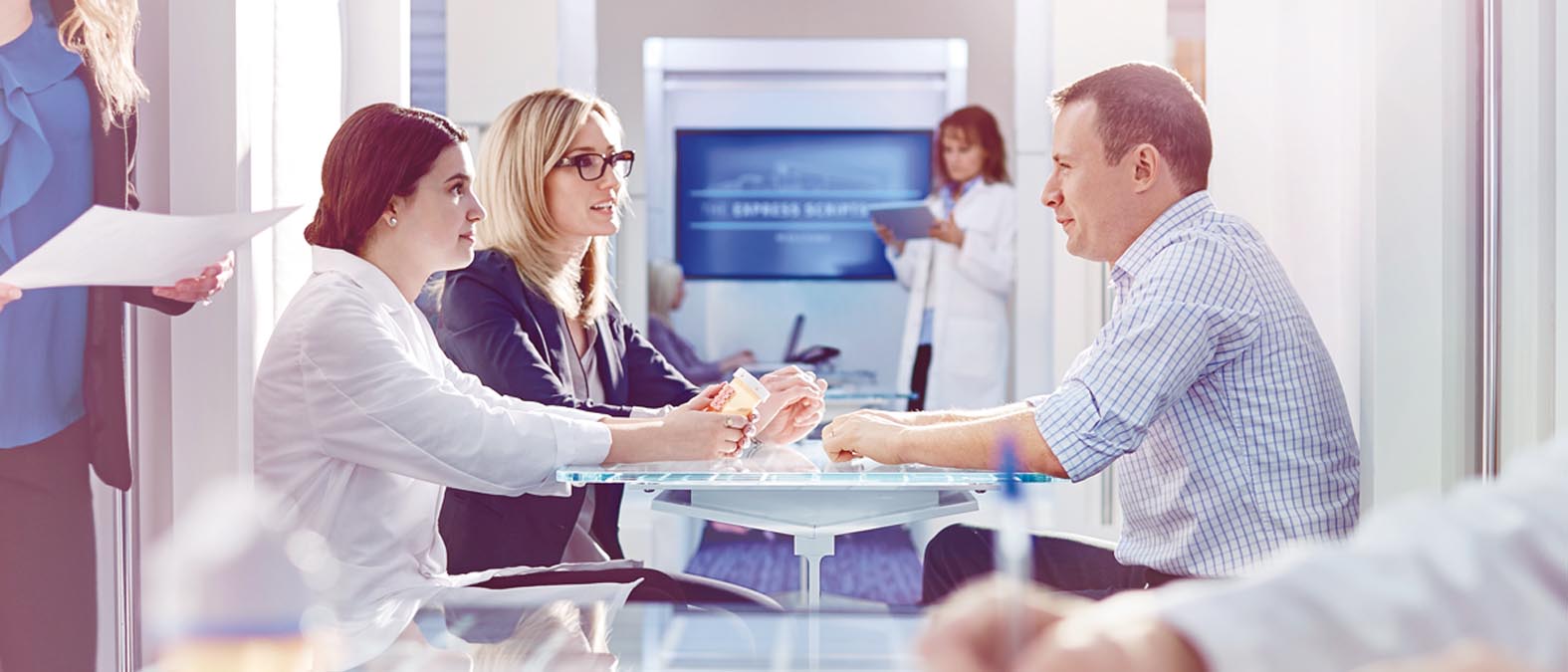 Webcast - Replay


Express Scripts Holding Co at Goldman Sachs 38th Annual Global Healthcare Conference




06/13/17

 at 9:20 a.m. PT
Webcast - Replay


Express Scripts Holding Co at William Blair and Company's 37th Annual Growth Stock Conference




06/14/17

 at 10:00 a.m. CT
Business Overview
Business Overview
At Express Scripts we believe in practicing pharmacy smarter. We put medicine within reach of tens of millions of people by aligning with our customers, taking bold action and delivering patient-centered care to make better health more affordable and accessible.
Headquartered in St. Louis, Express Scripts provides integrated pharmacy benefit management services, including network-pharmacy claims processing, home delivery pharmacy care, specialty pharmacy care, specialty benefit management, benefit-design consultation, drug utilization review, formulary management and medical and drug data analysis services. Express Scripts also distributes a full range of biopharmaceutical products and provides extensive cost-management and patient-care services.
Recent Press Releases
A Nation in Pain: Focus on Medicaid
 - 
06/22/2017 - 5:29 p.m.
ST. LOUIS, June 22, 2017 /PRNewswire/ -- Our nation's unprecedented opioid epidemic has been called the worst drug crisis in American history. To highlight the severity of this issue, consider these f... 
Express Scripts Introduces Comprehensive Solution to Reduce Opioid Abuse
 - 
06/07/2017 - 8:46 a.m.
ST. LOUIS, June 7, 2017 /PRNewswire/ -- Building upon its history of industry-leading bold actions, Express Scripts (NASDAQ: ESRX) today announced a new Advanced Opioid ManagementSM solution that will... 
Express Scripts Holding Company to Present at Upcoming Conferences
 - 
06/05/2017 - 3:21 p.m.
ST. LOUIS, June 5, 2017 /PRNewswire/ -- Express Scripts Holding Company (Nasdaq: ESRX) ("Express Scripts") announced today that it will present at two upcoming conferences: Goldman Sachs 38th Ann... 
Express Scripts Expands SafeGuardRx® Program to Improve Care for Pulmonary Conditions and Multiple Sclerosis
 - 
06/01/2017 - 8:00 a.m.
- Pulmonary Care Value Program addresses medication adherence through remote patient monitoring, patient engagement via Express Scripts' exclusive collaboration with Mango Health, and a quality pharma... 

Receive E-mail Alerts

Sign up to receive e-mail alerts whenever Express Scripts Holding Co posts new information to the site. Just enter your e-mail address and click Submit.
Data provided by Nasdaq. Minimum 15 minutes delayed.