Cheryl Hile and her husband
Brian at the finish of the 2017
Blackmores Sydney Marathon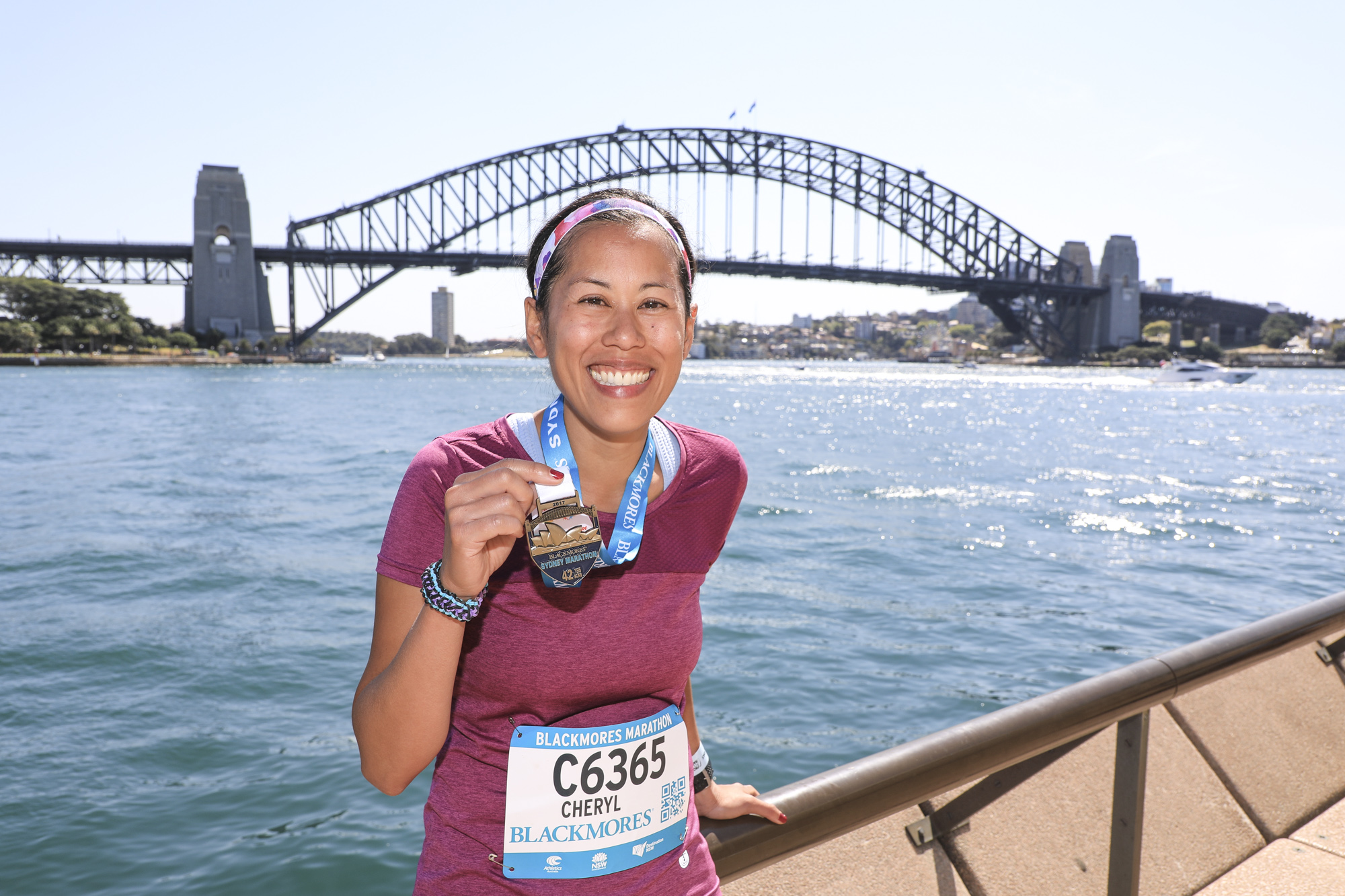 Cheryl Hile with her 2017
Blackmores Sydney Marathon
finisher's medal
Austin, Texas, Sept. 27, 2017 – Hanger Clinic orthotic patient Cheryl Hile concluded a year-long journey on Sept. 17, 2017, when she completed the Blackmores Sydney Marathon and became the first person with multiple sclerosis (MS) to run a marathon on each of the seven continents in one year. Hile's around-the-world mission began exactly 365 days prior, on Sept. 18, 2016, when she completed a marathon in Cape Town, South Africa. She then ran marathons in Buenos Aires, Argentina (October 2016); Honolulu, Hawaii (December 2016); Antarctica (January 2017); Tokyo, Japan (February 2017); Vienna, Austria (April 2017); and a "bonus" marathon in Christchurch, New Zealand (June 2017).
Hile was diagnosed with MS in 2006, and later developed a common symptom of MS called foot drop, which makes running more challenging and can cause tripping and falling. Hile wears a carbon fiber ankle-foot orthosis (AFO) that allows her to continue running. Her AFOs are custom-designed and fit by her Encinitas, California-based Hanger Clinic Orthotist Ara Mirzaian.
About Hanger Clinic: Founded in 1861 by the first amputee of the Civil War, Hanger Clinic, a subsidiary of Hanger, Inc., owns and operates more than 800 patient care clinics nationwide. The certified clinicians of Hanger Clinic provide patients with the latest in orthotic and prosthetic solutions, including microprocessor devices for those with limb loss and neuromuscular technologies for those with paralysis due to stroke, MS and other debilitating conditions. For more information on Hanger, visit www.Hanger.com, and for more information on Hanger Clinic, visit www.HangerClinic.com.
Krisita Burket, Hanger, Inc.
904-239-4627, kburket@hanger.com