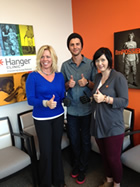 Amputee Empowerment Partners
National Coordinator Carrie Davis,
The Buried Life's Ben Nemtin,
and Torri Biddle
Austin, Texas, May 5, 2014 – A young woman from Ohio named Torri Biddle was born without part of her right arm and always dreamt of having a bionic hand to help with her everyday tasks. Recently, Hanger Clinic teamed up with a project called The Buried Life, and a non-profit organization called Invisible Children, to get Biddle the hand she needed.
Hanger Clinic National Upper Extremity Specialist Craig Jackman, CPO provided the prosthetic clinical care, Hanger Clinic Rehabilitation Services Manager Joyce Tyler, OTR/L, CHT provided occupational therapy, and Amputee Empowerment Partners National Coordinator Carrie Davis provided peer support.
View Biddle's story here: http://youtu.be/QV0bdzQRBD8.
More information on The Buried Life is available here: www.theburiedlife.com.
More information on Invisible Children is available here: www.invisiblechildren.com.
More information on Amputee Empowerment Partners is available here: http://www.hanger.com/doing/Pages/aep.aspx.
UPDATED INFORMATION AS OF 5/6/14 – Hanger Clinic has agreed to donate an arm to another teenager in need if Torri Biddle's YouTube video receives one million views.
About Hanger: Founded in 1861 by the first amputee of the Civil War, Hanger Clinic, a business unit of Hanger, Inc., owns and operates 740+ patient care clinics nationwide. The certified clinicians of Hanger provide patients with the latest in orthotic and prosthetic solutions, including microprocessor devices for those with limb loss and neuromuscular technologies for those with paralysis due to stroke, MS and other debilitating conditions. For more information on Hanger, visit www.Hanger.com, and for more information on Hanger Clinic, visit www.HangerClinic.com.
###
Jennifer Bittner, Hanger, Inc.
512-777-3730 , jbittner@hanger.com
Krisita Burket, Hanger, Inc.
904-249-0314 , kburket@hanger.com
For more stories like this, visit www.hangerclinic.com/about/news, www.Facebook.com/HangerNews, and www.Twitter.com/HangerNews.