| | |
| --- | --- |
| Date | Title |
| 08/07/18 | |
| 06/13/18 | |
| 05/09/18 | |
| 04/03/18 | |
| 03/06/18 | |
Webcast


Q3 2018 Quidel Corporation Earnings Conference Call

 (Live)




11/06/18

 at 5:00 p.m. ET
Corporate Profile
Quidel Corporation (Nasdaq: QDEL) is a California-based leading manufacturer of diagnostic healthcare solutions serving to enhance the health and well-being of people around the globe through the development of diagnostic solutions that can lead to improved patient outcomes and provide economic benefits to the healthcare system.   
More >>
| | |
| --- | --- |
| Date | Title |
| 11/06/18 5:00 p.m. ET | |


Stock Quote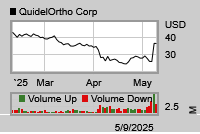 Receive E-mail Alerts

Alerts are e-mailed to you whenever certain new company information is posted to this site.
Sign-up Now!