Company Profile
Shoe Carnival is a leading retailer of family footwear. Each store offers a wide selection of both name brand and private label merchandise. Contests, games, neon signs, flashing lights and up-tempo music produce an energized shopping atmosphere.

The combination of a unique shopping environment in a large store format, value pricing, low cost structure and advanced information systems distinguishes Shoe Carnival from its competitors.

Shoe Carnival creates value for its shareholders by providing value to its customers. Feel free to browse our press releases section or link to a current stock report.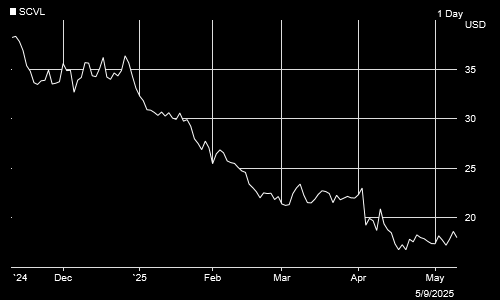 SCVL
NASDAQ
$

33.17
 + 0.39
149,562
Data provided by Nasdaq. Minimum 15 minutes delayed.
Recent News
Shoe Carnival to Report Second Quarter Fiscal 2018 Financial Results on August 28, 2018
August 14, 2018 8:01 a.m.
EVANSVILLE, Ind.--(BUSINESS WIRE)--Aug. 14, 2018-- Shoe Carnival, Inc. (Nasdaq:SCVL) a leading retailer of moderately priced footwear and accessories, today announced second quarter fiscal 2018 earnings results will be released on Tuesday, August 28, 2018, after the market close. The Company will host its quarterly conference call to discuss second quarter fiscal 2018 results at 4:30 p.m. Eastern Time. The earnings call will be webcast and... 

Shoe Carnival Inspires Back to School Spirit With Addition of 350 Schools to Philadelphia Donation Program
August 9, 2018 8:01 a.m.
EVANSVILLE, Ind., Aug. 9, 2018 /PRNewswire/ -- The first day of school is weeks away, and Shoe Carnival is ready to be the number one stop on your back to school shopping list. The family footwear retailer is welcoming the season in the best way yet – by giving back to the community. In continuation of a partnership between Shoe Carnival and Philadelphia school districts, 10 percent of total purchases at select participating locations will go back to the shopper's school of choice upon check... 

Shoe Carnival Introduces Updated Shoe Perks Loyalty Program
July 12, 2018 8:00 a.m.
Footwear retailer enhances program appeal with added benefits and a new Gold Tier EVANSVILLE, Ind.--(BUSINESS WIRE)--Jul. 12, 2018-- Indiana-based Shoe Carnival, Inc., one of the nation's largest family footwear retailers, has introduced an updated version of its Shoe Perks customer loyalty program. The refreshed program will offer a new mix of benefits optimized to maximize customer appeal and reach and will introduce a new Gold Tier.... 

Read more