Company Profile
Shoe Carnival is a leading retailer of family footwear. Each store offers a wide selection of both name brand and private label merchandise. Contests, games, neon signs, flashing lights and up-tempo music produce an energized shopping atmosphere.

The combination of a unique shopping environment in a large store format, value pricing, low cost structure and advanced information systems distinguishes Shoe Carnival from its competitors.

Shoe Carnival creates value for its shareholders by providing value to its customers. Feel free to browse our press releases section or link to a current stock report.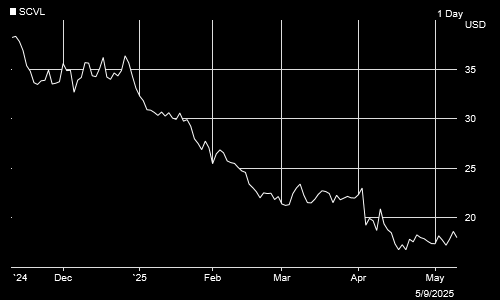 Data provided by Nasdaq. Minimum 15 minutes delayed.
Recent News
Shoe Carnival Stores Will Be Closed on Thursday in Observance of Thanksgiving
November 19, 2018 6:09 p.m.
EVANSVILLE, Ind.--(BUSINESS WIRE)--Nov. 19, 2018-- Shoe Carnival will continue its tradition of closing on Thanksgiving Day so associates can spend time with their families and loved ones. Customers looking to shop Thursday can access Black Friday Deals early on shoecarnival.com with free standard shipping on all orders. "We're very thankful for all our associates and customers," said Cliff Sifford, President and CEO. "In the spirit of the season... 

Shoe Carnival Reports Third Quarter Fiscal 2018 Financial Results
November 15, 2018 4:05 p.m.
Reports Comparable Store Sales Increase of 4.5 Percent Raises Fiscal Year 2018 Net Sales and Earnings Per Diluted Share Outlook EVANSVILLE, Ind.--(BUSINESS WIRE)--Nov. 15, 2018-- Shoe Carnival, Inc. (Nasdaq: SCVL) ("the Company"), a leading retailer of moderately priced footwear and accessories, today reported results for the third quarter and nine months ended November 3, 2018. Third Quarter Highlights ... 

Shoe Carnival Announces New Store Opening in Cookeville
November 8, 2018 4:06 p.m.
Family Footwear retailer Shoe Carnival holds Grand Opening celebration for their first store in Cookeville, TN this weekend EVANSVILLE, Ind.--(BUSINESS WIRE)--Nov. 8, 2018-- Shoe Carnival is opening their first location in Cookeville, just in time for the holiday shopping season! Customers will enjoy great values on name brand shoes and accessories in an exciting and unique shopping environment. The fun begins at 9:00 a.m. on Saturday,... 

Read more