Webcast


Q4 2015 Calgon Carbon Earnings Conference Call

 (Live)




02/19/16

 at 9:00 a.m. ET
Calgon Carbon Corporation is a global leader in the manufacture, reactivation, and application of activated carbon, ballast water treatment ("BWT"), ultraviolet ("UV") light disinfection, and advanced ion-exchange technologies. These technologies are applied by customers around the world to the treatment of drinking water, wastewater, ballast water, air emissions, and a variety of industrial and commercial manufacturing processes.
2014 Annual Report
Click here to download our 2014 Annual Report (PDF file).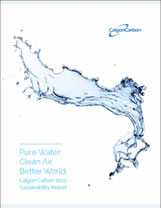 2013 Sustainability Report
Click here to see our first Sustainability Report.