Latest earnings release
Silgan Declares Quarterly Dividend

General Information
Headquarters
Silgan Holdings Inc.
4 Landmark Square, Suite 400
Stamford, CT 06901-2596
Main Telephone No.: (203) 975-7110
Investor Relations No.: (203) 406-3160

Investor Inquiries
Representatives of financial institutions and individual shareowners seeking information about the Company should contact investor relations. Please write to investor relations at the above address, call the investor relations number listed above or e-mail investor relations at
silganir@silgan.com

Stock Information and Symbol


The Company's Common Stock is quoted on the Nasdaq Global Select Market System under the symbol "SLGN".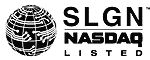 Contact Information
Transfer Agent and Registrar Information


Computershare
462 South 4th Street, Suite 1600
Louisville, Kentucky 40202
Telephone No.: (866) 220-0495
Website: www.computershare.com/investor



Independent Registered Public Accounting Firm


Ernst & Young LLP
300 First Stamford Place
Stamford, Connecticut 06902




Replication or redistribution of EDGAR Online, Inc. content is expressly prohibited without the prior written consent of EDGAR Online, Inc. EDGAR Online, Inc. shall not be liable for any errors or delays in the content, or for any actions taken in reliance thereon.