/
About Media Center
Feature Story
CEO Stanley M. Bergman Discusses Second-Quarter Financial Results on CNBC
Stanley M. Bergman, Henry Schein's Chairman of the Board and Chief Executive Officer, appeared on CNBC's "Closing Bell" to discuss Henry Schein's second-quarter financial results, as well as his thoughts on international expansion, the growing emphasis on specialty products—such as clear aligners and endodontic treatment—and the crucial role good oral health plays in helping improve a person's overall health.

"We are really campaigning for insurance companies to understand that oral care can result in better health care," Stan said. "Wellness and prevention is far more important than treatment, and oral care is a key non-communicable disease component that can help with the length of life, life expectancy, and quality of life."

To watch the video, please click here.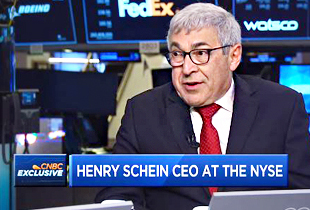 Media Interviews
Press Releases