/
About Media Center
Feature Story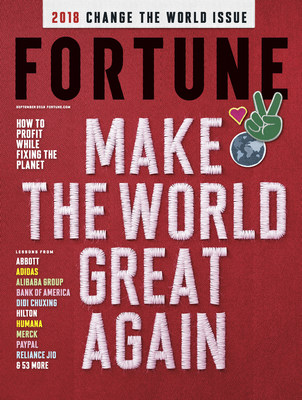 Henry Schein Named To Fortune's 'Change The World' List
Henry Schein has been named to FORTUNE's "Change the World" list, an annual ranking of companies that are doing well by doing good. The Company was recognized for its efforts to improve the oral health, and by extension overall health, of underserved populations around the world.
"Since our earliest days, we at Henry Schein have worked to align our strengths as a business with the needs of society, so it is greatly rewarding to be named to FORTUNE's 'Change the World' list," said Stanley Bergman, Chairman of the Board and Chief Executive Officer of Henry Schein. "This recognition only serves to reinforce our commitment to improving the health of people in need, and we look forward to 'helping health happen' for years to come."
The "Change the World" list recognizes companies that have had a positive social impact through activities that are part of their core business strategy. FORTUNE considers a company's measureable social impact, the business results of a company's socially impactful work, the degree of innovation related to that work, and how integral the initiative is to a company's overall strategy.
To read the full press release please click here​.