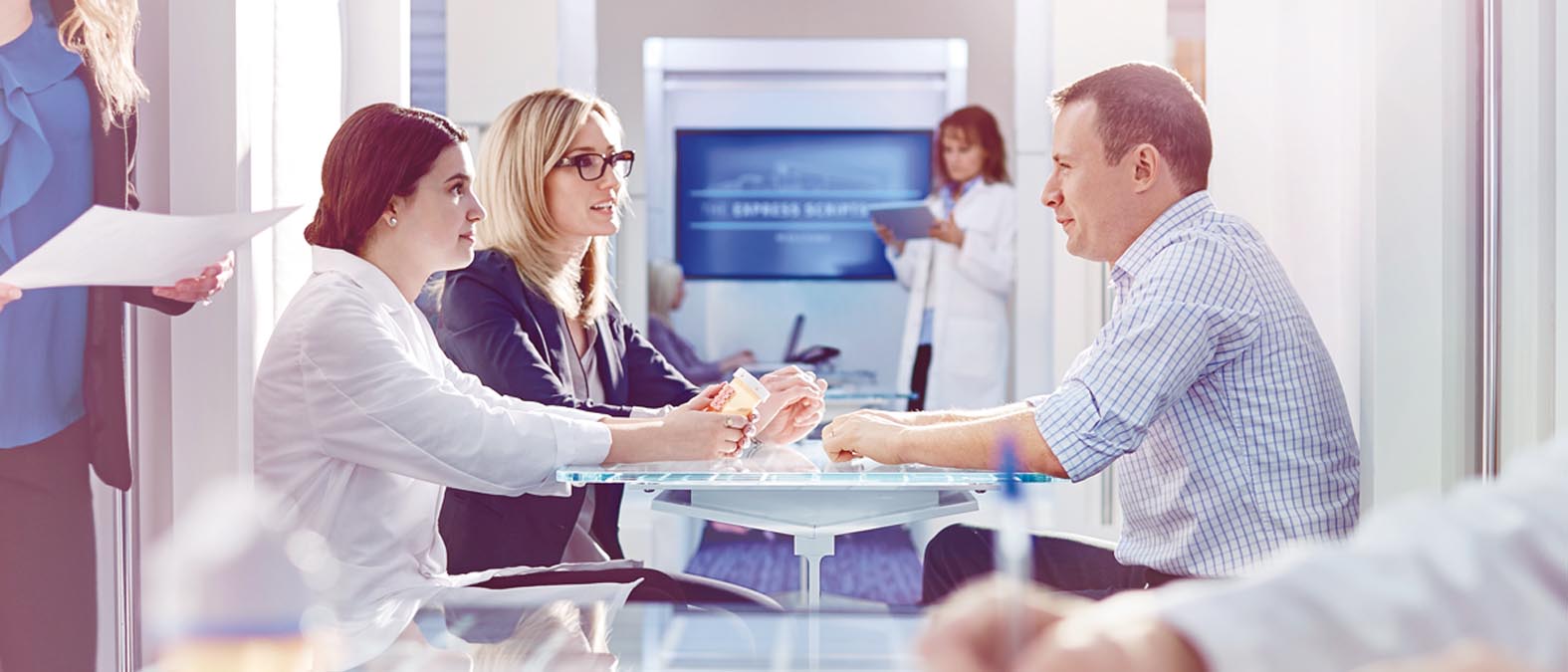 Webcast - Replay


Q1 2017 Express Scripts Holding Co Earnings Conference Call




04/25/17

 at 8:30 a.m. ET
Webcast - Replay


Express Scripts Holding Co at Bank of America Merrill Lynch 2017 Health Care




05/16/17

 at 11:20 a.m. PT
Business Overview
Business Overview
At Express Scripts we believe in practicing pharmacy smarter. We put medicine within reach of tens of millions of people by aligning with our customers, taking bold action and delivering patient-centered care to make better health more affordable and accessible.
Headquartered in St. Louis, Express Scripts provides integrated pharmacy benefit management services, including network-pharmacy claims processing, home delivery pharmacy care, specialty pharmacy care, specialty benefit management, benefit-design consultation, drug utilization review, formulary management and medical and drug data analysis services. Express Scripts also distributes a full range of biopharmaceutical products and provides extensive cost-management and patient-care services.
Recent Press Releases
Express Scripts Subsidiary to Join Walgreens Boots Alliance Development Group Purchasing Organization
 - 
05/18/2017 - 9:01 a.m.
ST. LOUIS, May 18, 2017 /PRNewswire/ -- Express Scripts Holding Company (NASDAQ: ESRX), through a wholly owned subsidiary, Innovative Product Alignment, LLC, today announced it will participate in Wal... 
Express Scripts and myMatrixx Combine To Offer Best-in-Class Pharmacy Services for Workers' Compensation Programs
 - 
05/17/2017 - 4:00 p.m.
ST. LOUIS, May 17, 2017 /PRNewswire/ -- Express Scripts (NASDAQ: ESRX) today announced it is taking an important step in expanding its customized workers' compensation pharmacy solutions by acquiring ... 
Express Scripts Holding Company to Present at an Upcoming Conference
 - 
05/08/2017 - 5:26 p.m.
ST. LOUIS, May 8, 2017 /PRNewswire/ -- Express Scripts Holding Company (Nasdaq: ESRX) ("Express Scripts") announced today that it will present at the Bank of America Merrill Lynch 2017 Health Care Con... 
Cross-Industry Partnership Reduces The Cost Of Popular Diabetes, Asthma And Other Brand Name Drugs
 - 
05/08/2017 - 8:15 a.m.
Inside Rx, a new initiative from Express Scripts, partners with GoodRx, drug manufacturers and drug stores to save Americans an average of 34 percent at 40,000 pharmacies ST. LOUIS and SANTA MONI... 

Receive E-mail Alerts

Sign up to receive e-mail alerts whenever Express Scripts Holding Co posts new information to the site. Just enter your e-mail address and click Submit.
Data provided by Nasdaq. Minimum 15 minutes delayed.