Investor Relations Overview
Infinera empowers network operators to accelerate service innovation and simplify optical network operations. Service providers, Cloud operators, governments and enterprises across the globe rely on Infinera Intelligent Transport Networks to create rich end-user experiences based on efficient, high bandwidth optical networks.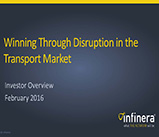 The Investor Relations presentation is a summary of high level information about Infinera, recent financial results and relevant metrics, details regarding our differentiated technology approach, and highlights of specific products and business lines. The presentation is geared towards investors and Wall Street analysts and is also used by Infinera management at investor conferences and meetings.




06/23/16

Infinera Sets July 27, 2016 for Its Second Quarter Financial Results Conference Call and Webcast


SUNNYVALE, CA -- (Marketwired) -- 06/23/16 -- Infinera (NASDAQ: INFN) today announced that it will release its financial results for the second quarter of fiscal 2016 ended June 25, 2016, after the close of market on NASDAQ on Wednesday, July 27, 2016. An investment community conference call to discuss these results and Infinera's outlook for the third quarter of fiscal 2016 will be held the same day at 5:00 p.m. ET/2:00 p.m. PT and will be accessible live and on an archived basis as follows... 

06/20/16

Infinera's David Welch Receives 2016 IEEE Ernst Weber Managerial Leadership Award for Optical and Cloud Networking Innovation


SUNNYVALE, CA -- (Marketwired) -- 06/20/16 -- Infinera, provider of Intelligent Transport Network announced that Dr. David F. Welch, Infinera co-founder and president, is the recipient of the 2016 IEEE Ernst Weber Managerial Leadership Award, recognizing exceptional managerial leadership in the fields of interests to the IEEE. Dr. Welch was honored with this recognition for his leadership in enabling the growth of cloud-based services and the Internet in optical transport networks at the IEEE... 


Featured Videos & Presentations
Data provided by Nasdaq. Minimum 15 minutes delayed.