Investor Relations Overview
Infinera empowers network operators to accelerate service innovation and simplify optical network operations. Service providers, Cloud operators, governments and enterprises across the globe rely on Infinera Intelligent Transport Networks to create rich end-user experiences based on efficient, high bandwidth optical networks.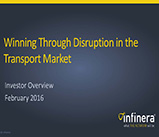 The Investor Relations presentation is a summary of high level information about Infinera, recent financial results and relevant metrics, details regarding our differentiated technology approach, and highlights of specific products and business lines. The presentation is geared towards investors and Wall Street analysts and is also used by Infinera management at investor conferences and meetings.




05/23/16

IHS Names Infinera Market Momentum Leader in Global Optical Equipment Segment


SUNNYVALE, CA -- (Marketwired) -- 05/23/16 --  Infinera, provider of Intelligent Transport Networks, announced today its recognition for the third consecutive year as a leader among the top optical network hardware vendors and the #1 vendor in terms of market momentum in the recently published 2016 IHS Optical Network Hardware Vendor Scorecard. The Scorecard reports that Infinera continues to benefit from the rapidly growing Internet content provider and data center interconnect market, a... 

05/16/16

Infinera to Participate in Investor Conference in Boston


SUNNYVALE, CA -- (Marketwired) -- 05/16/16 --  Infinera Corporation (NASDAQ: INFN), a provider of Intelligent Transport Networks, announced that it will participate in the following webcasted investor conference: J.P. Morgan Technology, Media and Telecom Conference Date: Tuesday, May 24, 2016 Presentation: 8:40am ET / 5:40am PT Speakers: Brad Feller, Chief Financial Officer and Karl Thedeen, SVP Metro Business Group Webcast: investors.infinera.com and click on "Ev... 


Featured Videos & Presentations
Data provided by Nasdaq. Minimum 15 minutes delayed.