Rezidor announces Route 2015 Strategy –
plan to expand margins by 6-8 points
At the Rezidor Hotel Group's Capital Market Day in London in December 2011, the company announced their "Route 2015 Strategy" – a number of initiatives to improve the group's EBITDA margin. Rezidor's plan will focus on several targeted areas which combined are expected to push the margins by 6 to 8 percentage points by 2015; assuming that market RevPAR growth will be in line with inflation.
Our main focus is improving profitability both in absolute terms and relative to the industry. In the current macroeconomic situation, we have to focus on what we can control ourselves, and I feel confident we will be able to improve our underlying margins over the next few years while continuing to pursue our asset-light growth strategy.
One important element is to put stronger emphasis on Revenue Generation, partly through achieving more synergies with our partner and brand owner Carlson.
Besides different revenue initiatives, the targeted approach includes growing the group's fee-based hotel portfolio and cost savings. The company has also established a separate Asset Management function in order to optimize the existing portfolio of leased assets, to increase profitability and to reduce the leverage of the company.
You can follow the 2011 Capital Market Day live at www.rezidor.com. The website also features all presentations made at the event.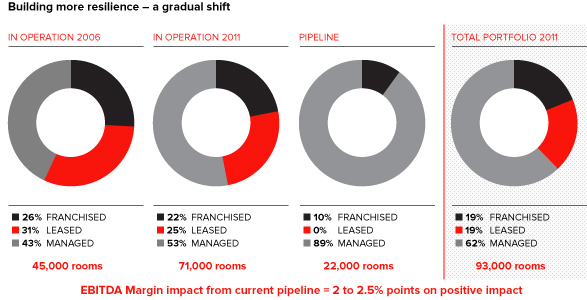 Our Strategy
Our strategy is to become increasingly asset-light by adding profitable management and franchise contracts to our portfolio.
Following a strategic decision in 1997 to focus on hotel management, Rezidor sold off all of our owned real estate. Since then, we have also gradually reduced the proportion of leased hotels in our portfolio, while increasing the percentage of managed and franchised hotels. This asset-light business model is attractive: it is more profitable, has a lower risk level and requires no investments, unlike a leased contracts strategy.
The Rezidor portfolio features great, well-segmented hotel brands: Radisson Blu, Park Inn by Radisson and Hotel Missoni, each with its own distinctive character and style. Working closely together with Carlson, we are focussing on aligning our brands around the globe: we are committed to rapid and profitable growth with a strong operational emphasis on building the top line. As one of the world's most dynamic, innovative hotel groups, we grasp every new business opportunity and are dedicated to growing from within, unleashing the full potential of our ever-increasing talent pool. Rezidor's unique Z factor spirit empowers every individual employee to dare to be different, to make things happen, to go for growth.
Our aim is also to expand our presence in Russia/CIS and Africa. Both regions have enormous natural resources, increasingly stable political and economic systems, considerably improved infrastructures and high GDP growth. Last, but not least, they have an imbalance of supply and demand in terms of internationally branded hotel rooms. We use management contracts to expand in these markets, enabling us to keep complete control of the high quality of our brands.
We aim to maintain our leading position in the Nordics, where Radisson Blu enjoys unrivalled brand awareness and a substantial RevPAR premium. Lease and franchise contracts are most common in this region, whereas in the mature markets of the Rest of Western Europe, we utilise all contract types - including managed, franchise and leased.
Our main focus is on the development of Radisson Blu and Park Inn by Radisson. For Park Inn by Radisson, our strategy is to go deep into some specific markets, such as the UK, Germany and Russia, with growth of existing hotels. Radisson Blu is our key to entering new markets, like the emerging countries of the African continent. And we will continue to expand the brand through new builds.