Providing energy for today and tomorrow.
Supplying natural energy for life.
Our Shareholders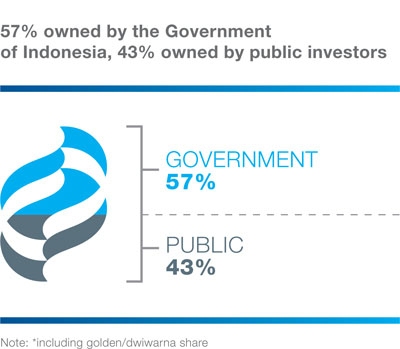 The Republic of Indonesia owns one series A Dwiwarna share, which has special voting rights. The Dwiwarna share has the same rights and restrictions as Ordinary Shares except for the fact that the Dwiwarna share can not be transferred, and has special rights attached to it with regard to changes in capitalization, the appointment and termination of members of the Board of Directors and Commissioners, the Articles of Association, mergers, consolidations and takeovers as well as dissolution and liquidation of the Company.
On 31 December 2010, the Republic of Indonesia owned 56.96% of the Ordinary Shares and one Dwiwarna share with special voting rights.