Water is a critical resource required for all steps of food processing. As soon as seeds are planted, our suppliers and contracted growers depend on the availability of clean water to grow crops and produce raw ingredients for our products.

ConAgra Foods needs water for its facilities to produce safe, quality food, and to use in cooking, sanitation and other infrastructure systems. It's a resource that allows us to operate our facilities and ensure our equipment gets cleaned thoroughly each day to meet food safety standards. In April 2010, we announced a goal to reduce water use by 15 percent per pound of product produced by 2015. We track water use for all of our facilities—both total amount used and water use per pound of finished product produced—and use this information to help prioritize water efficiency projects.

We believe the quality of the water we discharge is just as important as the amount of water we use. We have placed significant focus on improving wastewater pretreatment—including more than $30 million in recent infrastructure improvements—to drastically improve discharge water quality. We discharge wastewater to publicly owned treatment facilities for land application or irrigation or, in a few instances, we directly discharge wastewater into surface water bodies. With 37 percent of our wastewater used for irrigation or soil amendment at neighboring farms, we're returning, through beneficial re-use, a significant amount of the water we've extracted.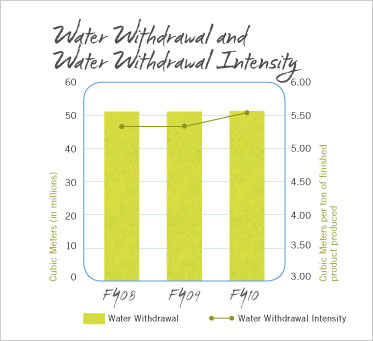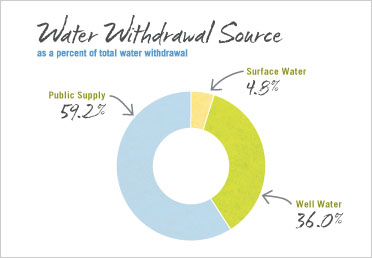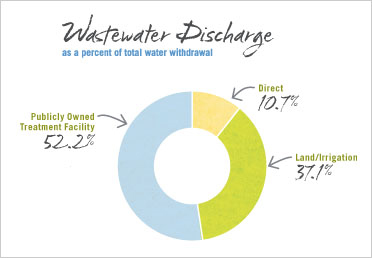 Understanding our Water Risk
We have recently begun assessing business risk associated with the availability of clean water. As a first step, we have mapped our manufacturing operations using the World Business Counsel for Sustainable Development (WBCSD) Water Tool to identify facilities located in water-stressed regions. Based on 2025 projections, most of our plants (88 percent) are located in areas with adequate water supply, including 77 percent that are located in areas of abundant water.

Twister® Fries Water Conservation
In most cases, water is used to float raw potatoes through the initial stages of the French fry making process, including cleaning and cutting. ConAgra Foods' Lamb Weston plant in Boardman, Ore., made simple modifications to its water tanks and piping to improve the water efficiency of its Twister® fry production.

The Juicy Truth: Tomato Water Reclamation
Our tomato fresh-pack facility in Helm, Calif., processes between 4,000 tons and 5,000 tons of raw tomatoes each day in the summer during tomato season. Located in one of the largest agricultural counties in California, where water is becoming increasingly scarce, the site is provided with a limited supply of water from the local irrigation district.