Investor Relations
INVESTOR RELATIONS
Welcome to the Delek US Holdings investor relations homepage. In this section, you will find a breadth of information on our company, in addition to a number of useful tools designed to help inform institutional and private investors, industry analysts and the media on Delek US Holdings and its subsidiaries.

To own a share of Delek US is to invest in a company whose asset portfolios are in the downstream energy and logistics businesses. Our refinery produces petroleum fuels and our pipelines and terminals market wholesale refined products to our customers. Throughout our history, we have prided ourselves on the strength and breadth of our asset base, as well as the long-term value these assets have generated over the years.

Read More
NYSE | DK (Common Stock)
Exchange
NYSE (US Dollar)
June 23, 2017  4:06 p.m. ET
Minimum 20 minute delay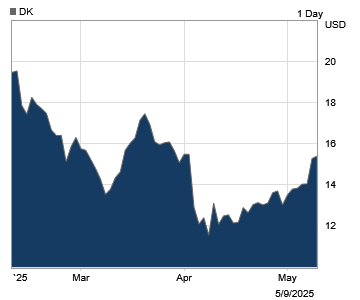 LATEST NEWS
INVESTOR EVENTS
WEBCASTS & PRESENTATIONS
INVESTOR TOOLKIT
EMAIL ALERTS
Sign up to receive email alerts whenever Delek posts new information to the site. Just enter your email address and click Submit.
Data provided by Nasdaq. Minimum 15 minutes delayed.