DAR ES SALAAM, TANZANIA (2/11/12) - Delegates on an 11-day U.S. energy trade mission led by Assistant Secretary of State Johnnie Carson and co-sponsored by the Corporate Council on Africa met with senior government officials and successful energy developers, including Pike Tanzania, to explore opportunities for public-private partnerships.
Pike Vice President, Ken Flechler spoke with delegates regarding Pike's recent entry into Tanzania through a $17.9M Millennium Challenge Corporation contract to expand the country's power grid. Prospective investors were interested in hearing about Pike's success with navigating government relations and building host country partnerships.
Delegates on the mission included U.S. power developers and infrastructure financiers positioned to significantly advance implementation of new power generation projects in Tanzania, Mozambique, Ghana and Nigeria. The delegation met with senior host government officials to discuss specific legal and regulatory constraints hampering private investment to power generation sector projects.
Lack of access to reliable, reasonably priced electricity is a major development constraint in Tanzania and most African countries. Implementation of large projects is crucial to addressing huge African generating capacity needs and providing the lowest per unit cost of electricity possible. Funding for the handful of private sector projects currently in progress is provided primarily through development finance and other donor financial institutions, such as the World Bank. Private sector debt and equity financing is needed to significantly scale up power infrastructure development. The four African countries selected for the trade mission offer strong opportunities for new project implementation based on continuing progress by host governments in the energy and investment policy areas.
About Pike Electric Corporation
Pike Electric Corporation is a leading provider of energy solutions to over 200 investor-owned, municipal and cooperative utilities in the United States. Our comprehensive services include facilities planning and siting, permitting, engineering, design, installation, maintenance and repair of power delivery systems, including renewable energy projects. Our common stock is traded on the New York Stock Exchange under the symbol PIKE. For more information, visit us online at www.pike.com.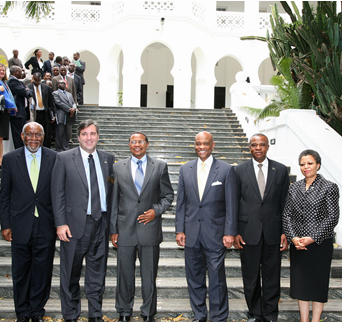 Left to Right: U.S. Assistant Secretary of State for African Affairs, Johnnie Carson; Pike Enterprises Vice President, Ken Flechler; The Honorable President of Tanzania, Jakaya Kikwete; U.S. Ambassador to Tanzania, Alfonso Lenhardt; Tanzanian Minister of Energy and Minerals, William Ngeleja; Tanzanian Ambassador to the United States, Mwanaidi Sinare Maajar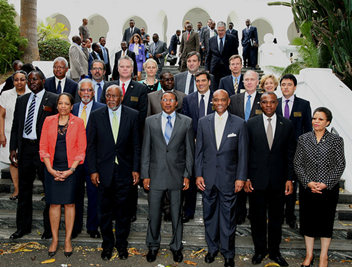 U.S. Trade Delegation visit with the President of Tanzania at the State House