XLIF Reimbursement Information
Surgical Societies Address BCBS of North Carolina Lumbar Fusion Policy Change
BCBSNC Lumbar Fusion Response
CMS' 2011 Final Addenda Includes XLIF in Existing Procedure Code

FY 2011 Final Addenda
NASS comments on XLIF Reimbursement

January 2010

July 2006

AANS Comments on XLIF Reimbursement

Page from AANS Spine Coding Syllabus


XLIF Reimbursement Information


Links to updated coverage decisions:
o
Aetna
o
United Healthcare
o
Humana
o
CIGNA
This document was last updated on January 18, 2011. Updates will be provided on a periodic basis, or as NuVasive deems necessary.
XLIF Reimbursement Update
Nuvasive announced further reversal decisions by both CIGNA and Humana on January 18, 2011.  At this time, all of the major commercial insurance providers that once had non-coverage policies for XLIF have reversed their position.  This list includes Aetna, United Healthcare, Health Care Service Corporation, Humana and most recently CIGNA.  Aetna and United Healthcare changed their spinal surgery policies to include coverage for the eXtreme Lateral Interbody Fusion, or XLIF® procedure, as of February 26, 2010, a reversal from their previous policies that labeled XLIF as experimental and investigational, or unproven. Both policies add XLIF coding clarification in line with the North American Spine Society (NASS) recommendation letter dated January 5, 2010.
Overview of Insurance Provider Pushback on Lumbar Spine Fusion Procedure Reimbursement
As reported on the third quarter 2010 conference call, NuVasive began to experience a deceleration in procedure volumes due to heightened push back from some private insurance providers.  The pushback is related to lumbar spine fusion procedures in general, not to the XLIF procedure specifically.  Insurers have done two things.  First, they have increased the criteria necessary to preauthorize lumbar spine fusion surgery, and second, they have increased the level of scrutiny of preauthorization forms. The increased criteria allow insurers to deny coverage for lumbar fusion surgery if patients present without meeting each condition in a list of stringent requirements including such things as instability, neural compression or stenosis, and radicular pain in the legs or arms. 
NuVasive hopes to lead the charge to improve coverage of spinal fusion through data from our extensive pipeline of clinical trials as well as by marshalling the surgeon community to rally behind their patients and fight for coverage of spinal fusion and better patient care. It is NuVasive's belief that the stringent list of requirements being demanded for fusion procedures is ill informed, so the Company is driving an advocacy effort that will better educate the payor and surgeon communities to the essential nature and improved outcomes made possible with fusion procedures, as well as to the proper preparation of documentation to obtain approval. 
Some progress has been made.  On December 15, 2010, responded to a policy change instituted by Blue Cross Blue Shield of North Carolina, which effective January 1, 2011, will increase the qualifications necessary to obtain preauthorization for lumbar spine fusion procedures.  The American Association of Neurological Surgeons (AANS), the American Association of Orthopaedic Surgeons (AAOS), the Congress of Neurological Surgeons (CNS), the AANS/CNS Joint Section on Disorders of the Spine and Peripheral Nerves, the International Society for the Advancement of Spine Surgery (ISASS), the North American Spine Society (NASS), the North Carolina Neurosurgical Society (NCNS), the Pediatric Orthopaedic Society of North America (POSNA) and the Scoliosis Research Society (SRS) provided suggestions to Blue Cross Blue Shield of North Carolina for modifying its policy to ensure appropriate coverage for those patients who will benefit from spine fusion procedures.  The letter can be viewed via the link at the top of this page.
Background on the XLIF Procedure
One of NuVasive's signature offerings is a suite of products that enable spine surgeons to perform a procedure that NuVasive branded and marketed as the eXtreme Lateral Interbody Fusion, or XLIF® procedure.  The XLIF procedure is an open surgical technique for spinal decompression and stabilization using existing methods, and does not require a steep learning curve. The exposure is customized to operative requirements and patient anatomy in order to enable clear and direct visualization, avoiding the need for cameras and monitors, while minimizing collateral damage to tissues. The surgeon's access is not compromised with cannulas, tubes or scopes as it typically is with dissimilar minimally invasive procedures. The XLIF open exposure allows standard tools, instruments and implants to be used, as opposed to endoscopic minimally invasive techniques which require specialized instrumentation and changes to surgeon technique.
NuVasive cannot offer definitive time frames for resolution of this issue, as the process is dictated by the private insurers.  NuVasive will continue to provide the appropriate resources to patients, physicians, hospitals, and insurers in order to ensure the best in patient care and clarity regarding XLIF reimbursement.
Reimbursement Coding for the XLIF Procedure
For spine procedures, reimbursement coding is established by the American Medical Association (AMA) with guidance from a specialty society called the North American Spine Society (NASS).
NASS stated in July 2006 that the XLIF technique is an anterior or anterolateral interbody fusion.  Open spine surgery from a lateral or anterolateral retroperitoneal approach is a longstanding technique that has been in practice for many years. Customized exposures for direct visualization in the anterolateral approach, such as XLIF, have been deemed by the NASS Operative Coding Committee to be described by existing CPT codes.
Therefore, while a surgeon can anteriorly approach the spine from a ventral or lateral approach, both are described in CPT as an anterior/anterolateral procedure… In summary, XLIF should be reported as 22558 for arthrodesis, 22585 for additional level arthrodesis, 22845 for anterior instrumentation, 2-3 segments.
For a better understanding of the NASS guidelines regarding XLIF coding, refer to the following anatomical diagram.
CPT code 22630 describes both PLIF (posterior) and TLIF (transforaminal) interbody fusion
CPT code 22558 describes both ALIF (anterior) and XLIF (lateral) retroperitoneal interbody fusion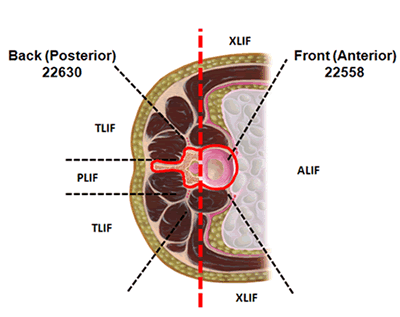 NuVasive does not encourage coding practices; instead, NuVasive refers physicians to guidance from the societies, like NASS. 
Insurance Provider Coverage of XLIF
Despite the coding guideline recommendation by NASS, the XLIF procedure has been deemed investigational or experimental by some private insurance providers.  NuVasive actively tracks the top providers, which comprise the majority of the private pay market.  Of these major providers, only Cigna currently has a nationwide XLIF non-coverage policy as of January 12, 2011.  Some providers do not publicly disclose coverage policies and some providers make only regional coverage decisions.  In these instances, NuVasive does not plan to publish updates as they are not readily available.
- Fraser RD:  A wide muscle-splitting approach to the lumbosacral spine.  J Bone Joint Surg Br 64(1):44-6, 1982.
- Wolfla CE, Maiman DJ, Coufal FJ, Wallace JR:  Retroperitoneal lateral lumbar interbody fusion with titanium threaded cages.  J Neurosurg 96(Spine 1):50-55, 2002.
- Fraser RD, Gogan WJ:  A modified muscle-splitting approach to the lumbosacral spine.  Spine 17(8):943-8, 1992.
- Rechtine DG, McAllister EW:  Flank retroperitoneal approach to the lumbar spine.  In: Anterior Approaches to the Spine. Zdeblick TA ed., Quality Medical Publishing, St. Louis, MO, 1999, pp193-201.