Join the live webcast at 10.30am (Sydney time) on Thursday 10 August 2017
A replay of the presentation will be available shortly after the briefing.
AMP today reported a profit attributable to shareholders of A$445 million and an interim dividend of 14.5 cents per share for the first half of 2017.
The main difference between profit attributable to shareholders and underlying profit arises from movements in investment markets. Underlying profit is AMP's preferred measure of profitability as it best reflects the performance of the business and is the basis from which the board determines dividends.
Today, we have announced that we will further reinsure our life insurance portfolio, improving the stability of this business and releasing a further A$500 million (approximately) in capital from AMP Life, subject to regulatory approval. The agreements we have reached with global reinsurance leaders Munich Re and Gen Re will become effective on 1 November 2017. AMP's retail life insurance portfolio will be effectively 65% reinsured, significantly reducing our exposure to future claims.
Dividend
Your board has declared an interim 2017 dividend of 14.5 cents a share, up 4% from 1H 16. This represents a payout of 79% of underlying profit. This falls within our payout range of 70% to 90% of underlying profit and reflects our confidence in the financial strength and future growth potential of the group.
We continue to frank dividends at the maximum possible rate and have been able to maintain the franking rate for this dividend at 90%.
Dividend reinvestment plan (DRP) shares will be bought on market, to avoid diluting the value of existing shares. The first half dividend for 2017 will be payable on 29 September 2017 and shareholders should ensure their details are updated on their shareholding by the record date of 24 August 2017.

Business performance
In the first half of the year we made good progress against our strategy, and delivered an improved result for our shareholders and customers. There was continued growth momentum in AMP Bank and AMP Capital, with both delivering double-digit earnings growth.
Our superannuation, investments and advice business (known as wealth management) remained resilient and demonstrated its strength as the market leader in superannuation, amid a period of elevated margin compression due to MySuper transitions. There were also strong net cashflows, which were driven by discretionary superannuation contributions, ahead of the 1 July super changes, and corporate superannuation mandate wins.
Our life insurance business is now in a much steadier position, with experience outcomes tracking in line with expectations.

Strategy
On 25 May 2017, we outlined our strategy for growth to the market and we have made good progress in repositioning AMP as a faster-growing, more capital-light business, with an increasingly international diverse revenue stream.
Our strategic priorities are to:
Tilt investment to higher growth, less capital intensive businesses, releasing and recycling capital from the lower growth business lines to fund broader growth in the group
Complete the customer-centred transformation of core Australian businesses, evolving to a new operating system focused on helping customers achieve their goals
Manage costs tightly across the group
Expand internationally by leveraging core strengths into new markets.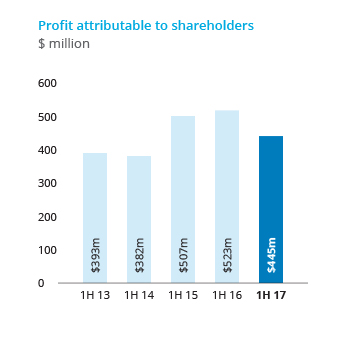 1. These numbers are unaudited