Press Release
<< Back
Import Vehicle Community Recognizes Advance Auto Parts' Bob Cushing with Prestigious Hall of Fame Award
Award bestowed at AAPEX honors significant contributions to import industry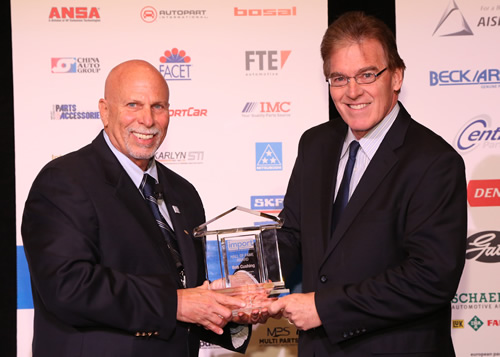 ROANOKE, Va., November 16, 2016 – Bob Cushing, Executive Vice President, Professional at Advance Auto Parts Inc. (NYSE: APP), received the highly acclaimed Import Vehicle Community Hall of Fame award during an awards luncheon held at the 2016 AAPEX Show in Las Vegas, Nevada. The Import Vehicle Community, a segment community of the Auto Care Association, honored Cushing for his strong leadership, integrity and decades of accomplishments that have bettered the import automotive industry.
"Bob's commitment to building an organization and team that puts customers first has set a tremendous example for our industry," said Ira Davis, Chairman of Import Vehicle Community's Executive Leadership Council. "We are proud, on behalf of all members in the import segment, to thank Bob for his leadership, perseverance and accomplishments by awarding him the 2016 Hall of Fame recipient."
Cushing's leadership roles include serving as President-CEO at WORLDPAC since 1999. He was promoted to the role of Executive Vice President, Professional at Advance Auto Parts in August 2016 and today oversees all Advance Auto Parts commercial business units including Advance, WORLDPAC and Autopart International. WORLDPAC, a wholly owned subsidiary of Advance, is a leading importer and distributor of OE and quality aftermarket replacement parts that serves independent import and domestic service centers in the U.S., Canada and Puerto Rico.
Cushing is the 49th recipient of the Import Vehicle Community's Hall of Fame honor. During his acceptance speech, Cushing attributed his success to building an organization highly focused on customers, the vendor community, developing strong customer relationships and working closely with the dedicated teams at WORLDPAC and Advance.
For more information about quality parts or services from Advance, visit pro.advancecommercial.com.
About Advance Auto Parts
Advance Auto Parts, Inc., a leading automotive aftermarket parts provider in North America, serves both professional installer and do-it-yourself customers. As of October 8, 2016, Advance operated 5,058 stores and 127 Worldpac branches and served approximately 1,250 independently owned Carquest branded stores in the United States, Puerto Rico, the U.S. Virgin Islands and Canada. Advance employs approximately 74,000 Team Members. Additional information about the Company, employment opportunities, customer services, and on-line shopping for parts, accessories and other offerings can be found on the Company's website at www.advanceautoparts.com.