View printer-friendly version
<< Back
NuStar to Lease Three of SemGroup Energy Partners' Asphalt Facilities
Lease Agreement Will Give NuStar Additional Revenue from Asphalt Refineries
SAN ANTONIO--(BUSINESS WIRE)--Jun. 5, 2009-- NuStar Energy L.P. (NYSE: NS) announced today the addition of three new asphalt terminals to its network of operations. The terminals, leased from subsidiaries of SemGroup Energy Partners, L.P. (SGLP.PK), are located in Saginaw, TX; Gloucester City, NJ; and Newport News, VA, and will contribute an additional 1.5 million barrels of storage capacity to the company's asphalt operations.
"We're excited to reach this agreement with SemGroup as it will give us the opportunity to generate additional sales from the asphalt produced at our Paulsboro and Savannah refineries," said Curt Anastasio, NuStar President & CEO. "It's also beneficial to our customers because they will have greater access to a wide variety of locations and products."
About NuStar Energy L.P.
NuStar Energy L.P. is a publicly traded, limited partnership based in San Antonio, with 8,491 miles of pipeline, 82 terminal facilities, four crude oil storage tank facilities and two asphalt refineries with a combined throughput capacity of 104,000 barrels per day. One of the largest asphalt refiners and marketers in the U.S. and the second largest independent liquids terminal operator in the nation, NuStar has operations in the United States, the Netherlands Antilles, Canada, Mexico, the Netherlands and the United Kingdom. The partnership's combined system has over 91 million barrels of storage capacity, and includes two asphalt refineries, crude oil and refined product pipelines, refined product terminals, a petroleum and specialty liquids storage and terminaling business, as well as crude oil storage facilities. For more information, visit NuStar Energy L.P.'s Web site at www.nustarenergy.com.
About SGLP
SGLP owns and operates a diversified portfolio of complementary midstream energy assets consisting of approximately 8.2 million barrels of crude oil storage located in Oklahoma and Texas, approximately 6.8 million barrels of which are located at the Cushing, Oklahoma interchange, approximately 1,150 miles of crude oil pipeline located primarily in Oklahoma and Texas, over 200 crude oil transportation and oilfield services vehicles deployed in Kansas, Colorado, New Mexico, Oklahoma and Texas and approximately 7.4 million barrels of combined asphalt and residual fuel storage located at 46 terminals in 23 states. SGLP provides crude oil and liquid asphalt cement terminalling and storage services and crude oil gathering and transportation services. SGLP is based in Tulsa, Oklahoma. For more information, visit SGLP's Web site at www.SGLP.com.
Source: NuStar Energy L.P.
NuStar Energy, L.P., San Antonio
Investors, Mark Meador, Vice President,
Investor Relations: 210-918-2895
or
Media, Mary Rose Brown, Senior Vice President,
Corporate Communications: 210-918-2314
Web site: http://www.nustarenergy.com
Stock Information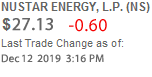 Computershare Investor Svcs, LLC
Shareholder Communications Team
P.O. Box 505000
Louisville, KY 40233-5000 USA
888-726-7784
http://www.computershare.com/investor