View printer-friendly version
<< Back
NuStar Expands Its Leadership in the Asphalt Industry with Investment in Warm-Mix Asphalt Technology
New Generation of Asphalt has Dramatic Environmental and Paving Quality Benefits
SAN ANTONIO--(BUSINESS WIRE)--Apr. 27, 2009-- When NuStar Energy L.P. (NYSE: NS) spun off as an independent company in April 2007, the company's stated goal was to expand beyond its pipeline and terminal operations to become a leader in the asphalt industry. To meet that goal, NuStar first developed an asphalt marketing and trading group, and then purchased two asphalt refineries in March 2008 to become the third-largest asphalt producer in the nation. Now, the company is leading the way in the implementation of new technology to blend and supply the next generation of asphalt known as warm-mix asphalt.
NuStar has begun installing systems at its asphalt terminals that will allow it to blend and supply warm-mix asphalt to its customers. Traditional hot-mix asphalt must be heated between 300 and 350 degrees as it is mixed with rock material at a hot-mix asphalt plant and then used to build or repair roads. The warm-mix technology NuStar is investing in and implementing decreases that temperature by 50 to 100 degrees. There are many benefits to this temperature decrease, including reduced emissions, reduced fuel usage to heat the asphalt, better pavement quality, and a longer paving season as you can lay warm-mix asphalt in cooler weather.
NuStar's system will add and blend a waterless asphalt binder into conventional asphalt at its terminals, and the binder changes the properties of the asphalt to make it usable at the lower temperatures. The binder, named Evotherm 3G, is marketed by South Carolina-based MeadWestvaco. Customers will not have to make any investments in additional equipment to use the product. Other existing warm-mix technologies require costly equipment to be installed at the asphalt production facility or hot-mix plant. And, the material can be applied to roads using standard paving equipment.
"We're excited to offer this new product line because it is a 'win-win' situation in every way," said Curt Anastasio, NuStar President & CEO. "It's a win for the environment in terms of emission reductions. It's also a win for our customers because they will benefit from fuel savings and they will have access to a product that is easier to work with as they build and repair roads. Plus, they will be able to take advantage of this product with absolutely no capital investment at their facilities. And, it will be a win for the nation as a whole because research shows that warm-mix technology will result in better roads."
NuStar plans to have its systems in place and begin making the product available in the Atlanta market on May 1, the southern New Jersey market on May 15, the Houston market on June 1, and the Baltimore market on July 1. The company is also looking at opportunities for installations at some of its other asphalt terminals in the coming paving season.
Energy Savings and Environmental Benefits
Because less fuel is needed to heat the asphalt, documented fuel savings for asphalt users generally range from 10 to 30 percent. The decreased heat and fuel usage also have proven air quality benefits. From a standard hot-mix plant, volatile organic compounds (VOCs) are reduced by 50 percent; nitrogen oxide (NOx) decreases by 60 to 70 percent; carbon dioxide (CO2) is reduced by 30 to 40 percent; and sulfur dioxide (SO2) is reduced by 35 percent. Research also shows that every 10 degree reduction in asphalt mix cuts the fumes in half, so the 50-100 degree reduction in warm-mix asphalt virtually eliminates fumes and odors. And, dust is reduced by 20 to 25 percent.
Based on these reductions, it is estimated that if all roadwork in the nation were to be done with warm-mix asphalt, it would be the equivalent of removing 1.5 million cars from U.S. roads.
And while asphalt is already the most recycled product in the world as the material has been reclaimed and reused in new asphalt mixes for many years, warm-mix allows for increased use of recycled asphalt pavement (RAP). That is because the properties of warm-mix interact better with the RAP and allow for higher percentages of the recycled material to be used in an asphalt mix.
Pavement Construction and Quality Benefits
While warm-mix technology was originally introduced as an initiative to improve energy efficiency and environmental performance, testing and early applications of the product in areas from research test tracks throughout the world -- from California's Route 1 to the German Autobahn -- have shown that there are also improvements in workability and pavement quality.
For instance, pavement life is increased because the lower-mix temperature results in reduced oxidation and aging of the asphalt. Warm-mix additives improve compaction of the asphalt, which results in a more dense and stable road surface. The improved workability of warm-mix also reduces the paving limitations associated with cooler weather, which causes hot-mix asphalt to cool too rapidly and hinders proper application and compaction. So warm-mix will enable road construction and repair beyond the normal "paving season" that is typically from April through October. And, because the warm mix is not as hot to begin with, less time is required to cool the mix before a road can be opened or reopened to motorists.
Warm-mix also dramatically improves working conditions for road construction workers with the virtual elimination of smoke and fumes, and, much cooler working conditions.
"The introduction of warm-mix asphalt is an important step in our evolution as an asphalt company," Anastasio added. "And going forward, we will continue looking for newer and better ways to serve our customers and improve our nation's roadways."
About NuStar Energy L.P.
NuStar Energy L.P. is a publicly traded, limited partnership based in San Antonio, with 8,491 miles of pipeline, 82 terminal facilities, four crude oil storage tank facilities and two asphalt refineries with a combined throughput capacity of 104,000 barrels per day. One of the largest asphalt refiners and marketers in the U.S. and the second largest independent liquids terminal operator in the nation, NuStar has operations in the United States, the Netherlands Antilles, Canada, Mexico, the Netherlands and the United Kingdom. The partnership's combined system has over 91 million barrels of storage capacity, and includes two asphalt refineries, crude oil and refined product pipelines, refined product terminals, a petroleum and specialty liquids storage and terminaling business, as well as crude oil storage facilities. For more information, visit NuStar Energy L.P.'s Web site at www.nustarenergy.com.
Source: NuStar Energy L.P.
NuStar Energy, L.P., San Antonio
Investors, Mark Meador, Director,
Investor Relations: 210-918-2895
or
Media, Mary Rose Brown, Senior Vice President,
Corporate Communications: 210-918-2314
Web site: http://www.nustarenergy.com
Stock Information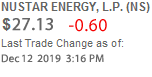 Computershare Investor Svcs, LLC
Shareholder Communications Team
P.O. Box 505000
Louisville, KY 40233-5000 USA
888-726-7784
http://www.computershare.com/investor