Overview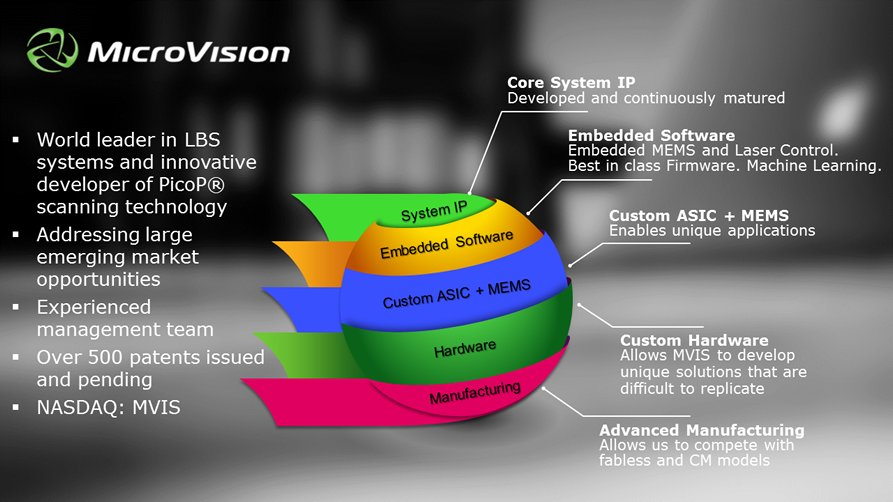 Webcast


MicroVision, Inc. at Ladenburg Thalmann 2018 Technology Expo Conference

 (Live)




05/31/18

 at 10:30 a.m. ET
Headquartered in Redmond, Washington, MicroVision is part of the conclave of high tech leaders in the Greater Seattle area. Grounded in our deep Northwest roots that go back to laboratories at the University of Washington, we maintain a global outlook as we work with leading companies around the world to bring revolutionary solutions to market.

MicroVision, Inc. is a pioneer in laser beam scanning (LBS) that we market under our brand name PicoP® scanning technology. Our technology allows us to create high resolution miniature projection displays and LiDAR sensors. This core technology is the foundation for multiple products in three primary application segments:
Display Applications

Projection Display Engine
AR / MR / VR Display Engine
Sensing Applications

Consumer LiDAR Sensor
Automotive LiDAR Sensor
Display + Sensing Applications

Interactive Projection Display Engine
By combining our hardware, software, and algorithms with our machine learning capabilities, we can unlock value for our customers by providing them truly differentiated and superior solutions that enhance the user experience.
To see what the future may look like, click here for a short conceptual MicroVision video.

Latest Press Releases


Replication or redistribution of EDGAR Online, Inc. content is expressly prohibited without the prior written consent of EDGAR Online, Inc. EDGAR Online, Inc. shall not be liable for any errors or delays in the content, or for any actions taken in reliance thereon.
The statements and graphics available on our website that are not historical facts, including statements regarding our business strategy, future products, applications, solutions and technology development, market opportunities and growth, technology adoption by customers, financial growth, and plans and objectives for future operations, are "forward-looking statements" that involve risks, uncertainties and assumptions. Such forward-looking statements are inherently uncertain and necessarily involve risks that may affect MicroVision's business prospects and performance, causing actual results to materially differ from those expressed or implied on our website. If the risks or uncertainties materialize or the assumptions prove incorrect, our results may differ materially from those expressed or implied by such forward-looking statements. All statements other than statements of historical fact could be deemed forward-looking statements, including, but not limited to: our ability to raise additional capital when needed; products incorporating our PicoP® display technology may not achieve market acceptance, commercial partners may not perform under agreements as anticipated, we may be unsuccessful in identifying parties interested in paying any amounts or amounts we deem desirable for the purchase or license of IP assets, our or our customers failure to perform under open purchase orders; our financial and technical resources relative to those of our competitors; our ability to keep up with rapid technological change; government regulation of our technologies; our ability to enforce our intellectual property rights and protect our proprietary technologies; the ability to obtain additional contract awards; the timing of commercial product launches and delays in product development; the ability to achieve key technical milestones in key products; dependence on third parties to develop, manufacture, sell and market our products; and potential product liability claims. Investors are encouraged to review our SEC filings, including the company's Annual Report on Form 10-K in which discuss we these and other risk factors associated with investing in MicroVision. We assume no obligation, and do not intend, to update these forward-looking statements, whether as a result of new information, future events, changes in circumstances or any other reason except as required by law.
Primary IR Contact
Transfer Agent
Shareholder Services
6201 15th Avenue
59 Maiden Lane
Brooklyn, NY 11219
Phone:
(800) 937-5449
Corporate Website:
http://www.astfinancial.com